French Onion Soup is always a good idea! Onions, bread, and FireFly Farms Cabra LaMancha gooey, melty cheese are the mains in this timeless dish and once you peel and slice the onions, the rest is effortless! Even better, while the onions slowly  braise in the oven… the delicious smell will transport you to Parisian brasseries. To make you'll need ovenproof soup bowls and a good appetite. This recipe is based on one in Bistro Cooking by Patricia Wells (Workman, 1989).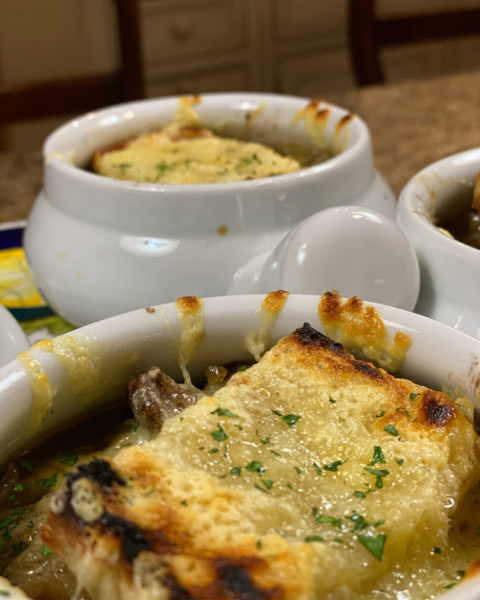 Ingredients…
1 cup white wine
1⁄2 cup cognac
8 Tablespoon butter
1 Tablespoon vanilla sugar
4 large yellow onions, peeled and thinly sliced
Maldon sea salt flakes and black pepper, to taste
6 sprigs flat-leaf parsley
6 sprigs thyme
2 fresh bay leaves
2 qt. Beef Stock
12 thick baguette slices or other rustic bread
2 cloves garlic, peeled
6 cups grated FireFly Farms Cabra LaMancha, Gruyere or similar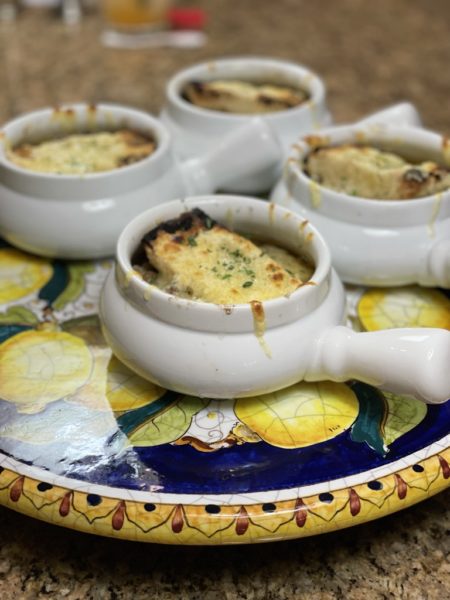 To Make…
Heat oven to 400°. Combine wine, cognac, butter, vanilla sugar, onions, Maldon and pepper in a 9″ ×13″ casserole dish and braise, uncovered, stirring occasionally, until the onions just begin to brown, about 45 minutes to an hour. Remove casserole from oven, toss onions, cover with foil, and continue braising in oven, stirring occasionally, until caramelized, about 1 hour more. Keep the onions warm.
Meanwhile, tie parsley, thyme, and bay leaves together with kitchen twine to make a bouquet garni. Put bouquet garni and stock into a pot and bring to a boil. Reduce heat to medium-low and simmer, partially covered, for 30 minutes. Remove and compost bouquet garni.
While the broth simmers, rub the baguette pieces generously with garlic and set aside. Compost any remaining garlic.
Heat broiler with rack 6″ from element. Arrange 6 heatproof bowls on a Silpat-lined sheet tray, divide onions and broth between bowls, and stir together. Place 1-2 bread slices in each bowl; top each with about 1 cup Gruyère. Broil until cheese is melted, bubbly and browned… about 3–5 minutes. Serve immediately.