We made these breadsticks in cooking class at La Baita on our 1st food tour in Salogni, Italy.  Easy and delicious… one batch yields enough crunchiness to last you through the week.  Just make sure you use plenty of coarse cornmeal to ease the rolling and shaping of your crispy treats.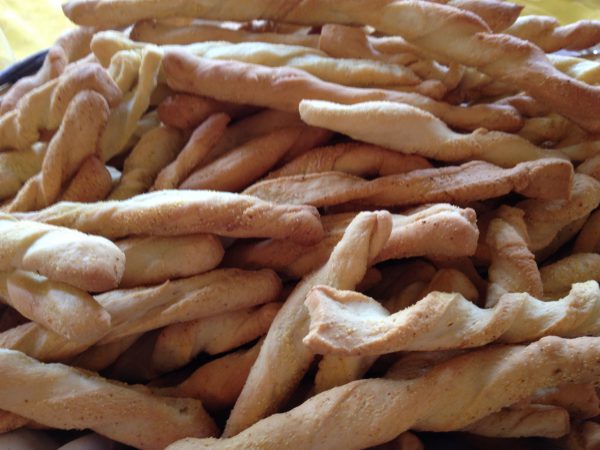 Ingredients…
2.2 lb  or 1 kilo of 00 flour… about 8 cups
1 cup extra virgin olive oil
2 cups warm water
.8 oz or 25 g fresh yeast
1 ½ Tablespoons salt
Lots of coarse corn meal for dusting
To Make…
Preheat oven to 400o F.
Dissolve the yeast in the water, add the flour and olive oil, and mix until you form a smooth and elastic dough.
Cover the dough with a tea towel and let it rise in a warm place until it has doubled in size. Add the salt by kneading it in to the dough.  At this point you could also add finely chopped rosemary, walnuts, or other seasonings you might like.
Roll the dough out in disks, using plenty of coarse corn meal to keep the dough from sticking and to create a crispy coating on the outside of the breadsticks. 
Slice the dough into small logs, then shape into grissini by stretching and twisting with your hands. 
Bake grissini on a sheet tray in preheated oven for about 10 minutes or until golden brown in color.
Enjoy…