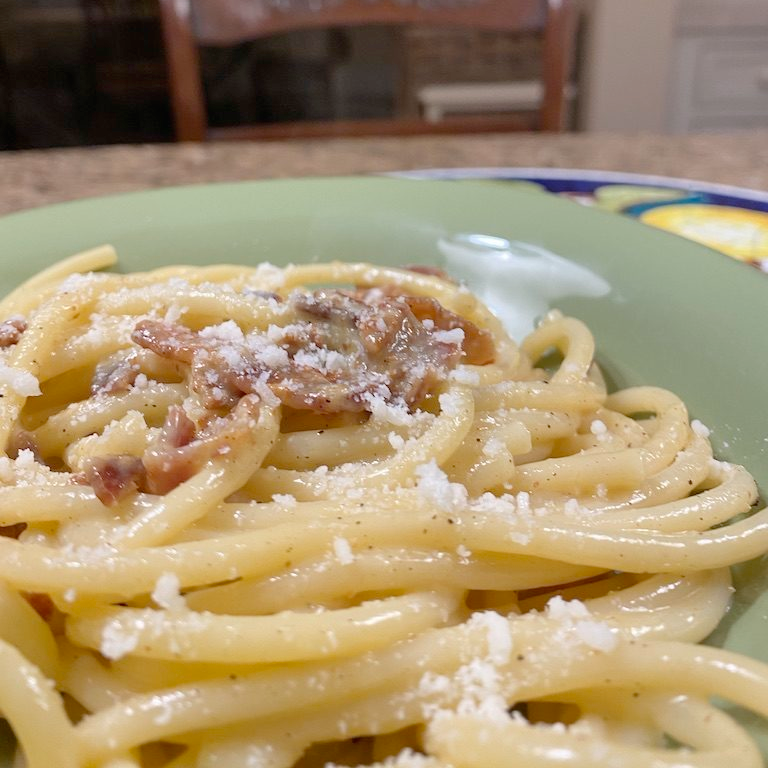 This simple, delicious Roman dish never disappoints. Although traditionally made with Guanciale or Pancetta… we often use bacon since it's more likely to be in our fridge. All three work well so take you pick.
Ingredients…
6 slices of bacon or the weight equivalent of Guanciale or Pancetta
2 large handfuls of Pecorino Romano or Parmesan, grated finely + more for garnish
2 eggs, room temperature
Black peppercorns, freshly ground
Maldon Sea Salt Flakes
½ pound dried bucatini, spaghetti or rigatoni
To Make…
 In a large pot, boil pasta water and salt it so it tastes like the sea. Keep hot!
Stack bacon slices on top of each other and cut into rectangular, bite-size pieces… these are called lardons. Fry bacon until crispy, strain and set aside to keep warm.
Start cooking the pasta according to package directions.
While the pasta cooks, in a medium bowl whisk the eggs well with the cheese, pepper and Maldon.
When pasta is almost cooked add 1-2 spoonfuls of the pasta cooking water to the egg mixture and whisk vigorously to make a smooth paste. This is called tempering and will prevent the eggs from scrambling. Also, the starch from the pasta water adds depth to the sauce.
Drain the cooked pasta and immediately, while still hot, add it your smooth paste and mix until you have a creamy consistency. Add the bacon and mix again. Serve immediately and garnish with more pepper and cheese.
Serves 3-4