Fresh garbanzos star in this delicious recipe as we marry winter and spring with fresh chives clipped from our garden and crispy shavings of pancetta…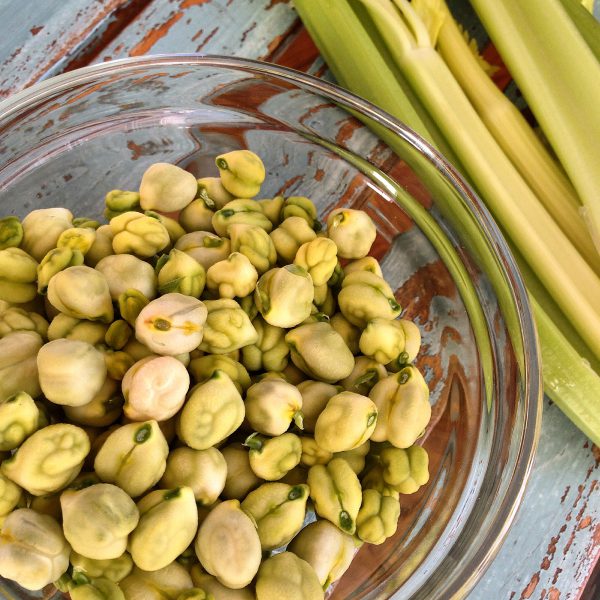 Ingredients…
2 cups fresh garbanzos, shucked
½ inch slice of pancetta, shaved
1 medium shallot, peeled and sliced
¼ cup extra virgin olive oil
½ cup Pecorino, grated finely + more for garnish
¼ cup freshly squeezed Meyer lemon juice
1 chile de arbol, whole
2 fresh mint leaves
hint of cayenne
1 garlic clove
Maldon Sea Salt Flakes and freshly ground peppercorn mix
1/3 cup fresh chives, sliced thinly
½ cup of goat cheese, crumbled
Ciabatta bread, sliced and grilled or broiled
To Prep Ahead of Time…
Broil or grill Ciabatta slices on both sides. Set aside.
Steam or blanch garbanzos until almost tender or al dente… they should have a little bite to them. Set aside.
Heat a medium size, heavy skillet over medium high. Add the shaved pancetta and cook until crisp. Using a slotted spoon, transfer to a resting plate leaving the rendered fat behind.
Heat the same skillet over medium. Add the shallot, chile de arbol, blanched garbanzos and a generous pinch of Maldon. Stir until the shallot is translucent and the chile begins to effuse its flavor… 3-5 minutes or so. Remove the chile de arbol and transfer the garbanzo mixture to a food processor.
To Make…
Puree the garbanzo mixture in the food processor until almost smooth. Then add the mint, cayenne, lemon juice and pecorino. With the motor running… add the olive oil slowly through the feed tube. You want to reach a thick, spreadable consistency. Taste… season with Maldon and freshly ground pepper to balance.
To Assemble…
Swipe just one edge of a slice of toasted Ciabatta with garlic. Drizzle with olive oil. Smear with garbanzo puree. Add a few crumbles of goat cheese. Top with pinches of shaved pancetta, pecorino and chives.