Only with Firefly Farms premier Italian style cheese, does this "good-for-you" recipe never get old. Our "Caesar Kale Slaw" calls for Firefly Farms Cave Dweller and Tuscan kale prepped and cut into "kale ribbons" and lightly dressed with a simple vinaigrette. Save your leftovers… it's even better the next day!!! Enjoy…
Whisk together in a large wooden bowl…
1 farm fresh, pasture-raised egg, coddled*
1/4 cup lemon juice, freshly squeezed
1/4 cup red wine vinegar
½ cup extra virgin olive oil
3 cloves garlic… minced, soaked in lemon juice 5+ minutes and drained.
2 teaspoons anchovy paste
2+ Tablespoons Worcestershire sauce
* Coddled eggs can be fully cooked, partially cooked or hardly cooked in water just below boiling temp. Our method… bring a pot of water to a boil, turn it off, gently lower in egg(s), count to 30 using 1 one thousand, 2 one thousand… and remove egg(s).
Now Add…
2 bunches Tuscan Kale rinsed, air dried, center ribs and stems removed and leaves thinly sliced into ribbons.
What is Tuscan Kale?
Less common and less bitter than curly kale… Tuscan kale is also known as… Lacinato kale or Dino kale or Italian Cavolo Nero. With long tradition in Tuscan cuisine, its feather-shaped, dark green, bumpy leaves resemble "dinosaur" skin, hence the name Dino kale. Click the Tuscan Kale link to see a video of how to prep your greens.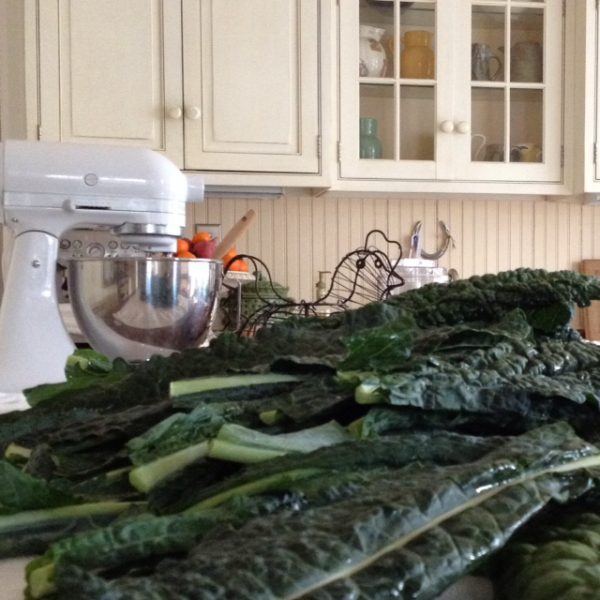 Season with…
Freshly ground peppercorns
Add…
Toasted breadcrumbs… see recipe below.
and…
Firefly Farms Cave Dweller , grated coarsely
Toss well and serve on chilled plates. Garnish with and more Cave Dweller and toasted breadcrumbs.
To toast the breadcrumbs… 
Preheat oven to 300 degrees
Drizzle olive oil to coat the bottom of a heavy bottom cast iron skillet.
Add enough coarse breadcrumbs to fill the skillet.
Now add more olive oil to lightly coat the breadcrumbs and gently stir.
Place the skillet on the middle shelf of your preheated oven.
Toast the breadcrumbs stirring every 10 minutes or so or until they're deep golden brown in color. Cool and store in a container with a tight-fitting lid in the fridge.