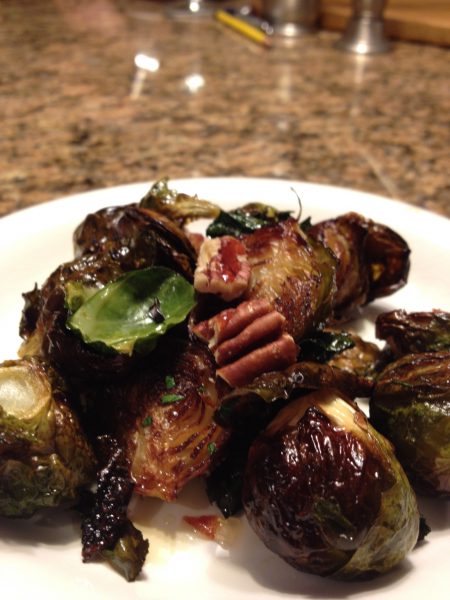 Ingredients…
2 quarts Brussels Sprouts, cleaned, dried, trimmed, cut in half with loose leaves reserved
6 slices of thick, center cut bacon, cut into lardons
¼ small onion, thinly sliced
2 leaves of Tuscan kale, rib removed, and sliced into thin strips
1 cup apple cider
¼ cup maple syrup
Freshly ground peppercorns
Pecans, toasted and chopped coarsely
To Make… Preheat oven to 425 degrees F.
In a Lodge cast iron fry pan… brown bacon bits until crispy.
Pour off bacon grease and reserve.
In a small saucepan… combine apple cider and maple syrup and reduce on medium-low until syrupy.
In a large bowl… toss halved Brussels sprouts in enough reserved bacon grease to lightly coat. Season with freshly ground peppercorns. Arrange on a roasting pan, cut side down and place on the bottom shelf of your preheated oven.
In the meantime, toss the loose Brussels Sprouts leaves and kale strips in enough reserved bacon grease to lightly coat.
Halfway through roasting add thinly sliced onions, kale and loose Brussels Sprouts leaves.
Roast for another 15 minutes or so.
Remove from oven and place in a warm serving bowl.
Season with Maldon Sea Salt Flakes.
Add the crisp bacon bits. Anoint with reduced apple cider syrup and garnish with toasted pecans. Serve immediately.