It's almost winter and local produce is scarce. Our "Cruciferous Vegetable Soup" started over medium heat with enough olive oil to just cover the bottom of our pot.
Next came a Soffrito of chopped onions, sliced garlic, minced jalapeno, sliced shallots, a fresh bay leaf and some Maldon Sea Salt Flakes.
Once our Soffrito was soft and translucent… we added small florets of cauliflower and Brussels sprouts trimmed and halved. We cooked them, stirring gently until just shy of browning.
Then we added enough chicken stock to cover,  brought it to a boil and reduced our heat to gently cook our soup at a steady simmer.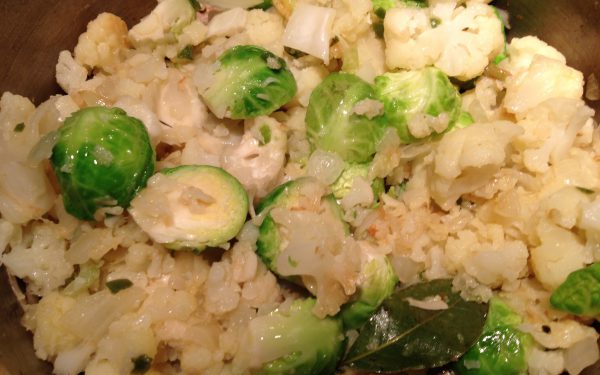 After about 10 minutes… we added some small broccoli florets and continued cooking.
Once the broccoli was tender yet crisp we stirred in some broccoli rabe leaves from our Just Simply… Cuisine Teaching Garden. Yes… we're still reaping our harvest!!!
To finish… we balanced our seasoning… garnished with grated sharp cheddar and chopped flat leaf parsley and… served our soup piping hot with crusty bread.