This time of year one of our favorite vegetables arrives on the farm market scene and into weekly CSA shares. Crisp, tart, underrated rhubarb announces spring and makes its' way into Just Simply… Cuisine's savory and sweet dishes alike. We marry winter's spices and nuts with spring fresh bounty to make this delicious "Ruby Red Rhubarb Cake". Our recipe has been tweaked, tasted and tuned to dessert perfection. Try it!!!
Batter Ingredients… 
½ cup unsalted butter
1 cup sugar
½ cup vanilla sugar
2 eggs, room temperature
1/3 cup whole milk
2 cups unbleached white flour
1 teaspoon baking soda
¼ teaspoon cloves
½ teaspoon cinnamon
2 cups fresh rhubarb, diced and tossed in unbleached white flour
To Make…
Preheat oven to 350 degrees Fahrenheit.
Butter and flour a 9"x 9" baking pan.
In a medium size bowl, sift dry ingredients together and set aside.
With a Kitchen Aid or electric mixer… beat butter and sugar together. Add the eggs one at a time and beat until incorporated.  Add flour mixture and milk in 3 stages, beginning and ending with the dry ingredients.
Gently fold in the rhubarb. Transfer batter to prepared baking pan.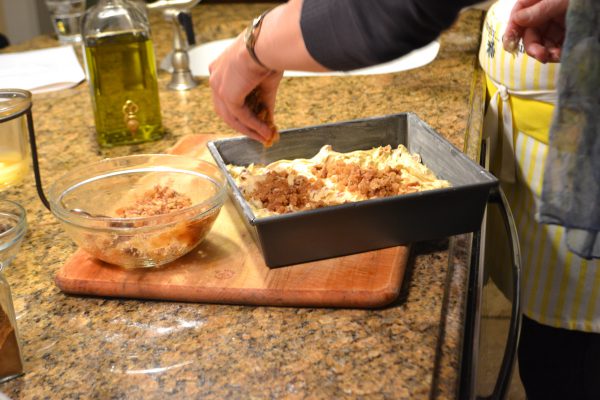 For the Topping…
Mix together with fingers…
1/3 cup sugar + 1/3 vanilla sugar
1 scant teaspoon cinnamon
1 cup chopped pecans
1/3 cup unsalted butter, melted
Sprinkle over batter.
Bake for 40 minutes or when center is poked with a knife it comes out clean. Keep warm until ready to serve. Sprinkle with confectioner's sugar and garnish with fresh mint leaves. Enjoy!