Once you've made homemade ricotta there's no going back to the store bought kind. Remember to use the finest, purest ingredients you can find and know where they come from.
About cheesecloth… we wash and air dry ours to get more use out of it. Enjoy…
Homemade Ricotta
 Ingredients…
1 quart whole milk
½ cup heavy cream
¼ cup plain full fat yogurt
1 teaspoon freshly squeezed lemon juice
½ teaspoon fine sea salt
To Make…
Bring to a simmer stirring all the while until curds form. Strain in a colander lined cheesecloth folded 4 layers thick. Use immediately or store in fridge until ready.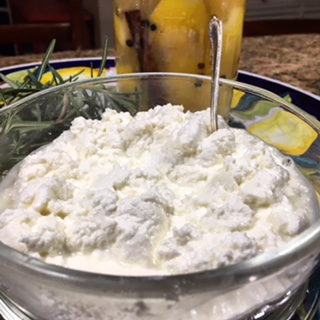 Ricotta Gnocchi
Ingredients…
1 pound fresh ricotta cheese
Enough unbleached, all purpose flour to make ½ the volume of the ricotta
2 large eggs, lightly whisked
generous pinch of sea salt
Freshly grated nutmeg
Handful of freshly grated Parmigiano-Reggiano
Freshly ground white and black peppercorn mix
A few hours ahead of time…
Drain the fresh ricotta in a tight mesh strainer over a bowl in the fridge.
To Make…
Bring a large pot of water to boil and add a couple large pinches of sea salt.
In a large bowl, whisk the eggs well. Add the ricotta, flour, nutmeg, sea salt and Parmigiano-Reggiano. Mix well to form a firm ball.
Dust the counter surface with flour and knead the dough until slightly dry and firm to the touch… about 3-5 minutes. Form 2 balls, wrap each in plastic and refrigerate until ready to use.
Cut each ball in half and roll into a 1-inch thick rope. Cut into 1-inch thick pieces and roll each piece down the floured tines of a fork with your thumb to shape into traditional gnocchi.
After all the dough has been shaped, place gnocchi into the boiling water, stir once and cook until all of the pieces float to the top… 5 minutes or so. Season with Maldon Sea Salt Flakes, freshly ground white and black peppercorns and grated nutmeg.
Toss in sauce of choice… we like Burnt Sage Butter. Garnish with freshly grated Parmigiano-Reggiano and serve immediately.