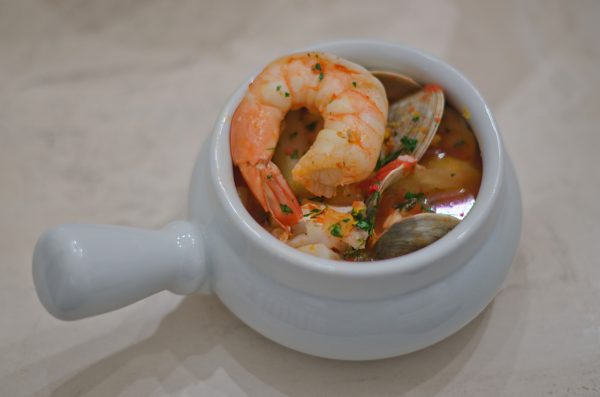 Ingredients…
6 cloves garlic, sliced thinly
Extra virgin olive oil, enough to coat a wide-bottomed pan
1 large onion, chopped finely
1 large fennel bulb, sliced thinly
1 large handful celery, chopped finely
Maldon Sea Salt Flakes
Freshly ground white and black peppercorns
Generous pinch of red-pepper flakes
1 good squeeze of tomato paste
generous pinch of dried oregano
1 cup dry white wine
2 28-ounce cans crushed tomatoes
2 bay leaves
1 8-ounce bottle clam juice
6 cups seafood or chicken stock
Italian flat-leaf parsley, chopped finely
50 littleneck clams, soaked in ice water for 1 hour
2 pounds large tail-on shrimp, peeled and deveined
3 pounds skinless flaky white fish such as bass, halibut, hake, cod or scrod, cut into 1-inch pieces
To Make…
In a large wide-bottom pan over medium heat, heat oil. Add onion, fennel, celery, generous pinch of Maldon, and ground peppercorns. Cook, stirring occasionally, until soft and translucent. Add the garlic and red-pepper flakes and cook until they bloom. Add tomato paste and oregano and continue to cook until caramelized.
Raise heat to medium-high and add wine. Cook until the alcohol evaporates off… about 3 minutes. Add tomatoes with their juice, bay leaves, clam juice, and stock. Bring to a boil, reduce to a simmer, and cook 30 minutes. Taste and adjust seasoning.
When ready to serve, heat the pot to medium and add clams, cover, and cook for 3 minutes. Stir in the shrimp. Arrange the fish on top of the stew, cover, and simmer until shellfish opens and fish and shrimp are firm and opaque, about 5 minutes more. Discard bay leaves and stir in parsley. Serve Cioppino immediately in large soup bowls with flat bread and garnished with more parsley and an olive oil drizzle.