Perfectly ripe  "not too hard not too soft" avocados are a must for this delicious recipe. Keep them warm as you cook along the way and serve hot out! And… make sure not to skimp on the Maldon and squeezes of lime before serving. For a real palate pleaser… garnish with fresh cilantro and  Just Simply… Cuisine's "Chipotle Cream".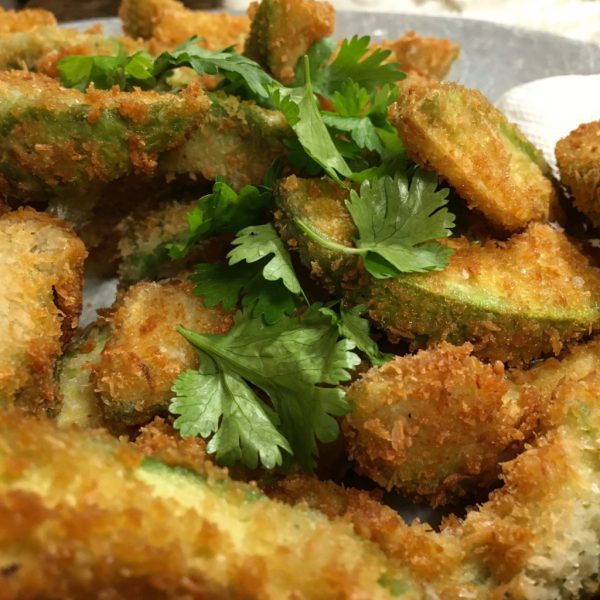 Ingredients…
Canola oil or peanut oil for frying
Unbleached white flour seasoned with a heavy pinch of cayenne, Maldon and freshly ground white and black peppercorn mix for dredging
Juice of 3 limes
2 cups bubble water
1 cup unsweetened shredded coconut
1 cup panko breadcrumbs
Avocados, firm but not hard to touch
Maldon Sea Salt Flakes
Freshly ground white and black peppercorn mix
Lime wedges
Fresh cilantro for garnish.
To Make…
In three separate dishes prepare the dredging ingredients.
The first dish, furthest away from the stove should hold the flour seasoned with a heavy pinch of cayenne, Maldon and freshly ground peppercorns.
The second dish in the middle should hold the juice of 3 limes mixed with 2 cups of bubble water.
And, the third dish closest to the stove should hold an even mixture of unsweetened shredded coconut and panko breadcrumbs.
Over a medium-high flame, heat oil in a large sauté pan or deep fryer making sure the oil is deep enough to cover the avocado wedges as they cook.
As the oil heats, cut the avocados in half lengthwise, in half again lengthwise and then remove the pit and peel away the skin.
Next, dredge your avocado slices first in the flour mixture, then in the water mixture and lastly in the coconut mixture making sure each wedge is coated well all over.
When the oil reaches 350 degrees F begin to fry the prepared avocado slices until nicely browned removing as they're ready with a slotted spoon onto a towel-lined platter as you go along.
Squeeze fresh lime juice over all, season with Maldon. Garnish with fresh cilantro and serve hot with Just Simply… Cuisine's Chipotle Cream.