In this recipe… we roast a Wagshal's Market "happy" chicken and then… for depth or flavor… we use the same roasting skillet with the drippings to make and bake our pot pie. Delicious!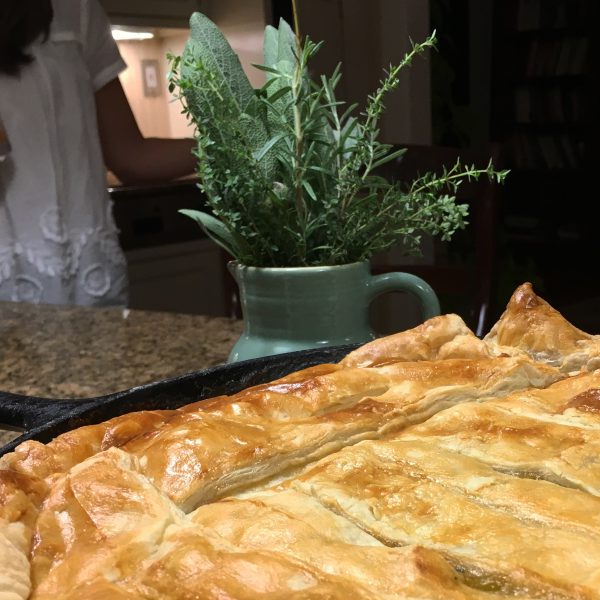 Ingredients…
1  4 lb. whole chicken roasted in a 12 inch cast iron or other heavy ovenproof skillet
1 cup onions, chopped coarsely
3 garlic cloves, chopped finely
2 small fresh sage sprigs
A generous pinch or two of Italian flat leaf parsley, chopped
1 extra-large handful of kale, ribs removed, chopped into 1 inch pieces
Maldon Sea Salt Flakes, freshly ground peppercorns
1/4 cup unbleached white flour
3+ cups chicken stock
1 cup fingerling potatoes, cut into ½ inch pieces
2 cups butternut squash, peeled, cut into ½ inch pieces
2 cups corn off the cob, frozen or fresh
2 sheets frozen Dufour puff pastry, thawed in fridge
1 egg
To Make…
Place a rack in middle of oven; preheat to 400°F.
Remove chicken from skillet but leave drippings. Pull chicken of the bone and set aside.
Heat your 12" cast-iron or other heavy ovenproof skillet with drippings over medium-high heat. Add onions and cook, stirring occasionally, until they begin to brown.
Reduce heat to medium. Add garlic and sage sprigs to skillet and cook, stirring occasionally, until garlic begins to brown and sage begins to bloom, about 2 minutes.
Add kale and season with Maldon and pepper. Cook, tossing often, until wilted, about 3 minutes.
Sprinkle flour over all and cook, stirring for 2 minutes or so.
Pour in ½ of the stock and add the potatoes and squash. Bring to a boil, reduce heat, and simmer adding more stock as needed until squash and potatoes are just softened and stock is thickened…  about 10 minutes. Fish out sage sprigs. Now add chicken, corn and parsley to skillet, stir, and season with Maldon and freshly ground peppercorns.
Remove pastry from fridge, unfold it and place it in one layer over skillet… cutting dough to cover entire surface. Whisk egg with 1 teaspoon water and brush pastry with egg wash. With a small paring knife cut slits in top to vent.
Bake pot pie until pastry is golden brown and crisp and the pot pie is bubbling… about 45 minutes.
Serve hot out garnished with more parsley!!! Enjoy…