We tweaked this summer classic by adding a basil sprig to the filling, Pecorino to the dough and reduced balsamic as a garnish. DELICIOUS!!!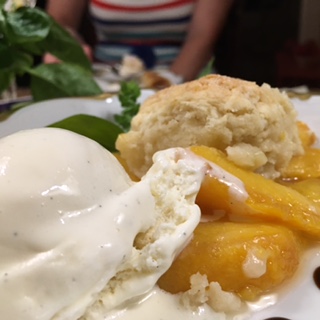 For the dough…
Mix:
3½ cup unbleached white flour, sifted
2 T baking powder
4 T sugar
4 T Pecorino, finely grated + more to sprinkle
1 t salt
Cut in:
10 T unsalted, cold butter
Add:
1½ cup half & half
Gently knead dough on a lightly floured surface for about 1 minute or so. Cut into 2 inch circles. Refrigerate until ready to use.
 For the filling…
6-8 large peaches, peeled, pitted and sliced
½ cup sugar
4 T cornstarch
1 large sprig of basil
To Make…
Preheat oven to 400°
Blend filling ingredients and let sit for 15 minutes or so. Pour it into a 12" x 8" glass baking dish.
Arrange dough circles on top in a cobbled fashion. Brush with melted butter and sprinkle with an even mix of grated Pecorino and sugar.
Bake until filling is bubbly and cobbles turn golden brown. About 30 minutes.
Remove basil sprig.
Serve hot out with vanilla ice cream. Garnish with a few drops of reduced balsamic and basil leaves.