A testament to nature's bounty… this colorful and delicious risotto shouts warm days ahead!!! Starting with a soffrito of leeks, onions, and shallots… we marry the seasons with cooked and raw beets and peas garnished with toasted pistachios, mushrooms, clementine juice, garden fresh chives and thinly sliced Prosciutto.  YUM!!!
For the Soffrito…
Enough extra virgin olive oil to coat a wide bottom sauté
1 small yellow onion, chopped coarsely
1 leek, cut lengthwise and then in half moons
1 shallot, chopped finely
2 cloves of garlic, chopped finely
Generous pinch of Maldon sea salt flakes
For the Risotto…
2 cups Aborio Rice
1 cup dry white wine
6+ cups hot chicken stock + ½ small raw beet, peeled and submerged in the stock for color
1 cup fresh, shucked English peas
8 ounces of goat cheese, room temperature
1 medium beet, unpeeled, wrapped in foil and roasted in a 400 degree oven for 1+ hour until easily pierced with a knife then…  peeled and pureed with a ladle or two of chicken stock
For the Garnish…
½ small raw beet, diced and soaked in the juice of 1 clementine
1 cup fresh, shucked English peas, blanched
Prosciutto, thinly sliced
Thinly sliced mushrooms
Pistachios, toasted and chopped coarsely
4 fresh chives, chopped finely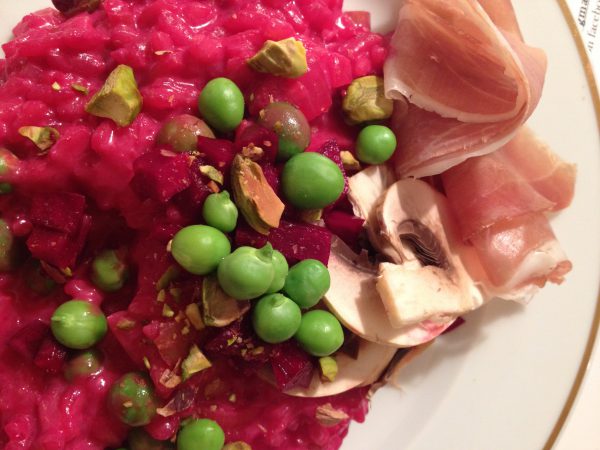 To Make…
In a large, heavy, wide bottomed pan over a medium flame, heat enough extra virgin olive oil so that it coats the bottom surface and until it's hot but not smoking. Add the onions, leeks, shallot and sea salt and cook them until they're clear and soft, about 5 minutes or so. Add the minced garlic, mix in the rice and stir until well coated. Toast the rice for 2-3 minutes. Then… up the heat to medium-high, add the wine and cook until evaporated… about another 2-3 minutes.
Now… begin to add hot, colored stock a couple of ladles at a time and stirring until liquid is absorbed… turning down the heat as the rice thickens. This process should result in a creamy and tender but not overly soft risotto and should take about twenty minutes or so. Almost at the end… stir in 1 cup of peas. Remove from heat and stir in the goat cheese and pureed roasted beet until blended. Season to taste with sea salt and freshly cracked pepper.
To Serve…
Plate and garnish each serving with the diced raw beet soaked in clementine juice, blanched peas, mushrooms, pistachios, chives and one slice of Prosciutto on the side. Enjoy!