For this dish we smear our signature "Compound Butter" over toasted Ciabatta and pile Littlenecks on top of all. Delicious!
Compound Butter…
Unsalted Butter, softened
White and Black Peppercorns, freshly ground
Red Pepper Flakes
Zest of lemon
Parmesan and/or Pecorino, grated finely
Italian Flat Leaf Parsley, chopped finely
Mix the above ingredients together. Refrigerate or freeze.
Parmesan Toast…
1 loaf of Ciabatta or other hearty white bread, sliced in half like an open book or like sliced bread.
Broil or toast your bread on the open side if like a book or on both sides if slices.
Generously smear your toasts with compound butter and sprinkle with grated Parmesan.
Broil or toast bread again until the top(s) lightly browns and bubbles.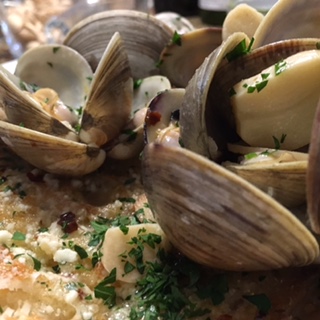 Little Necks…
50 Littlenecks in their shells
3 Tablespoons extra virgin olive oil
1 jalapeno, stemmed, seeded and chopped finely
8 cloves garlic, sliced thinly
1 large pinch of red pepper flakes
1 large sprig of fresh sage
1 cup dry white wine
½ cup chicken stock
1 large serving spoon Compound Butter
¼ cup fresh Italian flat leaf parsley, chopped
To Make…
About 20 minutes before cooking… soak clams in a large bowl of ice water with a pinch or coarse corn meal to remove any grit or sand. Drain, rinse well and drain again.
In a large wide bottom sauté pan, heat olive oil over medium.
Add the red pepper flakes and garlic and cook until they start to bloom… about 1 minute so.
Add the sage and cook for a minute or so… until it begins to soften.
Pour in the white wine and chicken stock. Up the heat to medium high and cook down until the wine has reduced to half of what you started with.
Add clams, cover, and steam until the clams start to open.
Cover and cook until all of the clams open up… discarding those that don't.
Add the compound butter and parsley. Serve all over torn " Compound Butter Parmesan Toast" reserving more for dipping.
Enjoy…