Our zucchini pizza is a delicious and creative way to use up summer's plentiful squash. Variation? Try yellow squash, onions, tomatoes and fresh marjoram to marry the season's harvest.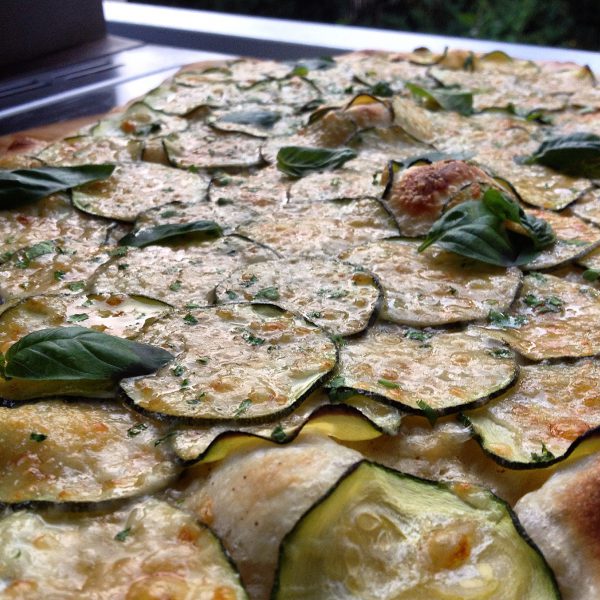 Ingredients…
1 zucchini, cleaned and thinly sliced
1 pizza dough, room temperature
1 scant teaspoon cayenne
1 teaspoon Maldon Sea Salt Flakes
Extra virgin olive oil
1+ cups grated NY Sharp Cheddar
Fresh basil to garnish
Preheat your oven or covered grill to 475 degrees F with your pizza stone on the bottom shelf or on the grill grates.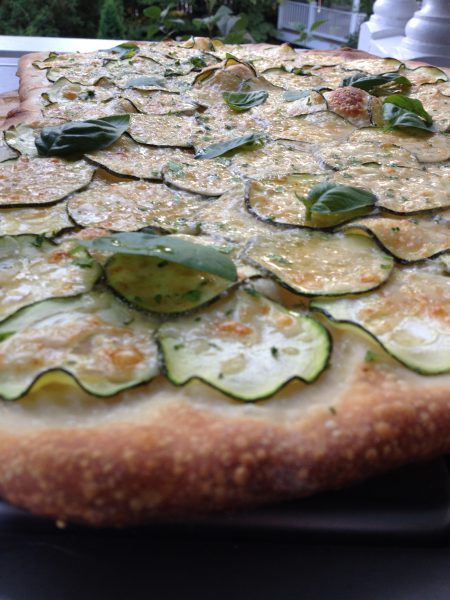 Make the pizza…
Dust dough with unbleached white flour and gently stretch it out with fists or use a rolling pin if needed.
Remove pizza stone from oven… it will be hot… and roll out the pizza dough on top of the stone.
Sprinkle with Maldon and cayenne.
Brush with olive oil.
Top entire surface of the dough with one layer of zucchini barely overlapping the slices.
Sprinkle grated cheddar over all.
Cook for 10-12 minutes or until crust is browned on the bottom and the top is bubbly.
Sprinkle Maldon and fresh basil leaves liberally on top of the pizza. Enjoy!