In this New Year 2013 chili recipe we feature Wagshal's beef burger mix… on special at the Market this month… buy one pound and get one pound free.  We use our Lodge Cast Iron Dutch Oven and add a variety of chile peppers to create a delicious balance of fire and spice. Don't forget to garnish if you need to tone down the heat!!!
Ingredients:
Olive oil
2 lbs. Wagshal's beef burger mix
1 large green bell pepper, pulp, stem and seeds removed and diced coarsely
1 medium yellow onion, peeled and diced coarsely
1 large jalapeno, pulp, stem and seeds removed and diced finely
1 Tablespoon garlic, peeled and chopped finely
3 whole Serrano chile peppers
1 Tablespoon cumin seeds, freshly ground
2 Tablespoons chili powder
1 teaspoon cayenne
1 teaspoon ground cinnamon plus 1 cinnamon stick
1 28 ounce can Cento San Marzano tomatoes, hand squeezed with their juices
1 teaspoon black peppercorns, freshly ground
2 teaspoons Maldon Sea Salt Flakes
½ cup Italian flat leaf parsley, chopped finely
To Garnish…
Fresh lime wedges
Sour cream
Fresh cilantro leaves
Red onion, chopped finely
Cheddar cheese, shredded
Tortilla chips
Cooking Directions:
Heat a large, wide bottom Lodge Cast Iron Dutch Oven over medium-high. Add enough olive oil to just cover the bottom. Add the Wagshal's beef burger mix, break it up with a wooden spatula and brown it on all sides… cooking for about 10 minutes or so.  Remove the beef with a large slotted spoon to a resting platter. Discard excess fat from your Dutch Oven.
Reduce your heat to medium. Add the green bell pepper, onion, jalapeno, garlic, Serrano chiles, cumin, ground cinnamon, chili powder and cayenne… giving each their own space in the bottom of your Dutch Oven. We call these "hot spots".
Cook until the vegetables are  golden and the spices release their smells. Return the beef to your Dutch Oven and stir.
Add your hand-squeezed San Marzanos, cinnamon stick, black pepper and Maldon Sea Salt Flakes. Stir gently until combined. Bring to a simmer, reduce your heat to medium low and cook for an hour or so or until the flavors meld.
Just before serving… remove the whole Serranos and cinnamon stick. Stir in the parsley and adjust the seasoning.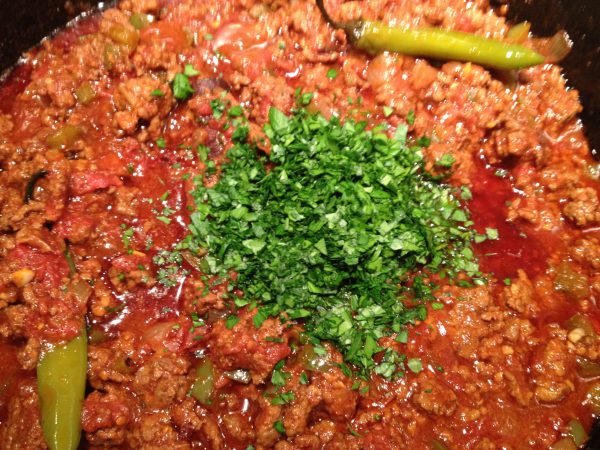 Serve in warm bowls with garnishes. Enjoy!