On special at the Market this month… this Wagshal's Bone-in Pork Loin shouts spring!!! For flavor and moisture… we rub the roast with seasonal herbs and baste it with white wine throughout the cooking process. Fennel is added towards the end for more flavor and moisture and to create a delicious side.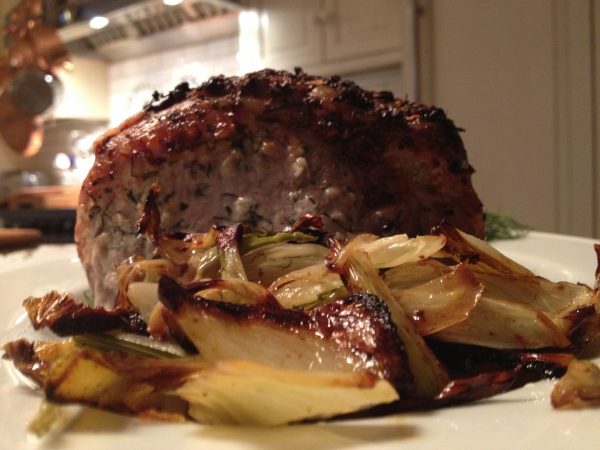 Ingredients…
3 pound Wagshal's bone-in pork loin
Maldon sea salt flakes
Freshly ground white pepper
6 cloves garlic, finely chopped
Handful of fennel fronds, finely chopped
6 fresh sage leaves, finely chopped
A few gratings of nutmeg
1/3 cup extra virgin olive oil
1 cup dry white wine + more to deglaze the roasting pan
2 medium fennel bulbs, trimmed and sliced
Generous pinch of red pepper flakes
To Make…
Preheat the oven to 400 degrees Fahrenheit.
In a small bowl, combine the garlic, sage, fennel fronds, red pepper flakes, nutmeg and olive oil. Stir well to combine. Season the pork loin with sea salt and freshly ground white pepper and rub the herb spice mixture all over it. Place the pork on a rack in a roasting pan and then into the lower half of a preheated oven. Let it roast for about 1½ hours… anointing it with the white wine and basting it with the cooking juices often.
Meanwhile, bring 1 quart of water to a boil. Add the fennel and turn down to a simmer. Blanch the fennel for 3 minutes or so. Set aside and then add the fennel with its cooking liquid to the roasting pan arranging it around the pork during the last 30 minutes of cooking time.
Remove your pork roast from the oven when a meat thermometer inserted between the bones reaches 155 degrees.  Spoon fennel to platter and set aside in a warm place. Allow the meat to rest for 10 minutes before carving. Deglaze the roasting pan with more white wine. Carve the pork between the bones into thick chops and arrange them on a serving platter surrounded by the fennel. Pour the pan drippings over the meat and garnish with fresh fennel fronds. Serve immediately.