For a healthy take on traditional meatballs and marinara… this Just Simply… Cuisine recipe showcases Wagshal's ground bison . If you have all your ingredients on hand… these bison meatballs make a quick 30 minute stove-to-table meal. Serve with crusty bread and top with an oozy sunny side up farm fresh egg.  DELICIOUS!!!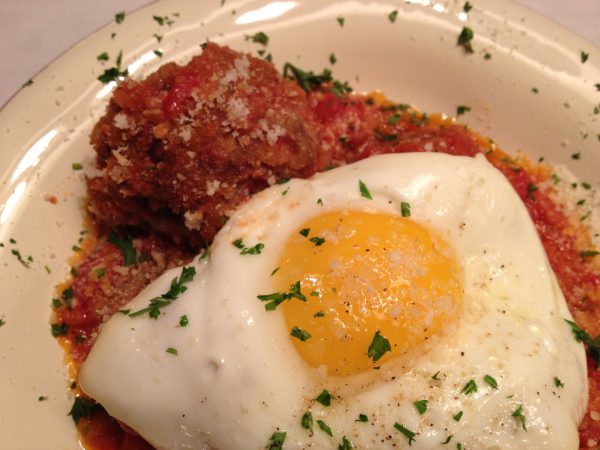 Wagshal's Marinara Braised Bison Meatballs & Farm Fresh Eggs Sunny Side Up

1 pound Wagshal's ground bison
2 Tablespoons grated onion
2 Tablespoons Italian flat leaf parsley, chopped finely
1 egg, slightly beaten
2 Tablespoons extra virgin olive oil
1teaspoon garlic, minced
A mix of black and white peppercorns, freshly ground
1 cup dry breadcrumbs plus more for coating
Olive oil, extra virgin
Nutmeg, freshly grated
1 28 ounce can Cento San Marzano whole peeled tomatoes, hand squeezed and with their juice
Freshly grated Parmesan for garnish
In a large bowl combine the ground bison, onion, parsley, egg, olive oil, a few gratings of nutmeg, breadcrumbs, sea salt and freshly ground pepper. With your hands, gently mix everything together until it is combined without overworking it. Put more dry breadcrumbs on a separate platter and begin shaping the meat mixture into one-inch balls, again very gently and without overworking them.  Roll the balls lightly into the platter of dry breadcrumbs and set them aside until ready to brown. Save any remaining breadcrumbs.
Next, heat a large sauté pan over medium-high heat and pour in enough olive oil to rise up the sides… about ¼ of an inch.  Heat oil for a minute or so and then place the meatballs to cover the bottom of the pan, browning them on all sides and gently turning to minimize breakage.  Carefully remove meatballs from the pan as they are browned and rest them on a platter. Continue cooking until all meatballs are browned.
Pour off excess oil from the sauté pan, return meatballs to the pan and add the hand-squeezed San Marzano tomatoes. Add the remaining breadcrumbs from your coating platter.  Half cover pan and simmer for about thirty minutes or so over medium-low heat, turning and coating the meatballs with the sauce every so often.  When the oil floats free of the tomatoes you'll know the sauce is done.  Balance seasoning with sea salt and freshly ground peppercorns.
Top each serving with a sunny side up farm fresh egg. Garnish with freshly grated Parmesan and some finely chopped Italian flat leaf parsley. Serves 4.