Our Osso Buco… made with Wagshal's veal shanks braised in wine, vegetables and herbs… changes each time we make it. We'll use what's in season and what's left in our fridge. This version starts with leeks and mushrooms instead of traditional recipes calling for celery and carrots. Rosemary, garlic and chile de arbol are also added to enhance flavors and pique our palates.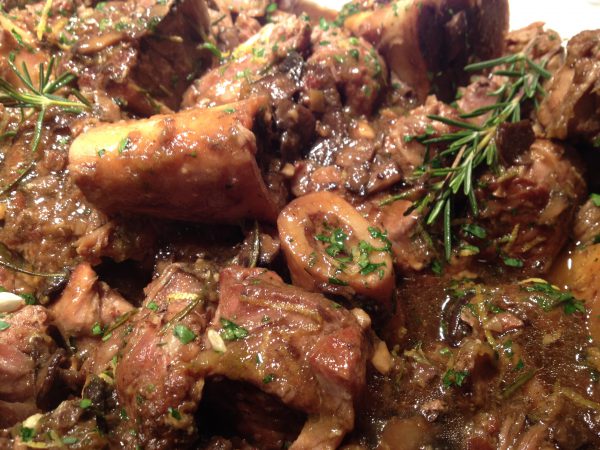 Equipment:
1 Large Lodge Cast Iron Dutch Oven
Ingredients:
3 pounds Wagshal's veal shanks
Enough olive oil to coat the bottom of pan to ¼ inch thick
3 leeks, white parts only, sliced in thick rings
Enough veal or chicken stock to come halfway up the sides of the meat
2 bay leaves
6 cloves of garlic, smashed
2 small chiles de arbol
2 sprigs fresh rosemary
1 pint of white mushrooms, sliced thickly
Generous splash of white wine
Maldon Sea Salt Flakes
Whole white and black peppercorn mix, freshly ground
Flat leaf Italian parsley, chopped finely
Juice of ½ lemon
To Make:
Season and rub the shanks with sea salt and freshly ground peppercorns.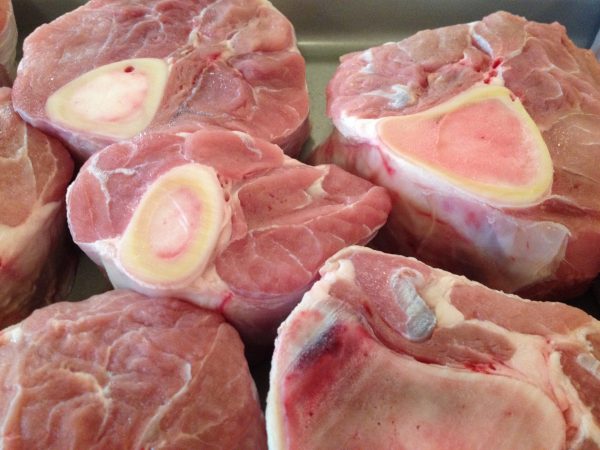 Place your Lodge Dutch Oven over medium-high heat and add just enough olive oil to coat the bottom. In batches… brown the meat on all sides… removing your browned shanks and setting them aside onto a resting platter as you go along.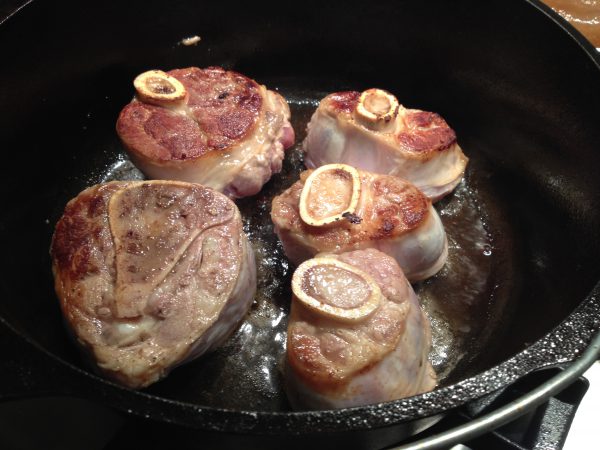 Discard excess oil from your Dutch Oven leaving behind a slight coating. Return pan to the stove and over medium heat add the sliced leeks, garlic cloves, mushrooms, rosemary sprigs and chiles de arbol… creating hot spots for each and browning them for 5+ minutes. Stir all together and continue cooking until the mushrooms are golden and the smells start to permeate.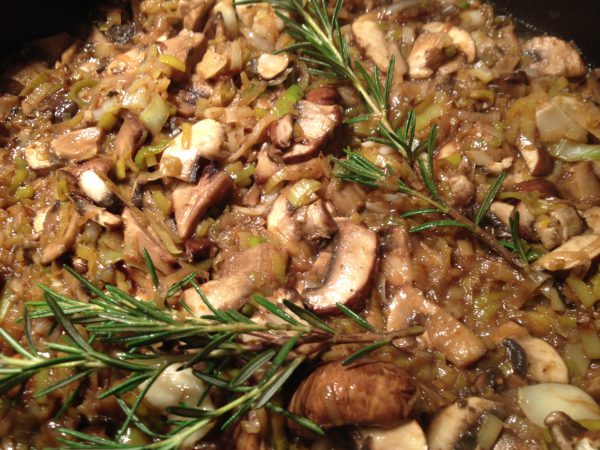 Now up your heat to medium high and return the shanks to the Dutch Oven with the vegetables and herbs. Anoint all with the wine and heat for 2 minutes or so until the alcohol in the wine cooks off. Add the bay leaves and just enough veal or chicken stock to come 1/2 way up the sides of the meat. Bring stock to a gentle boil, turn the heat down to low. Cover your Dutch Oven tightly and slowly simmer for 3+ hours or until meat is fork tender. Check for moisture along the way and add more stock as needed as it evaporates off.
Alternatively, you can also place your Dutch Oven in a preheated 300/325 degrees oven for about the same amount of time… again checking for moisture .
When ready… spoon all onto a large, warm serving platter… fishing out the bay leaves, rosemary sprigs, bones and chiles de arbol.  It should be  "fall off the bone" tender by now.
Adjust seasoning adding more Maldon and freshly ground peppercorns. Garnish with chopped Italian flat leaf parsley and anoint with the juice of half a lemon. Serve piping hot with warmed rustic bread. Makes enough for 4-6 with leftovers.
Note: If making a day ahead, chill overnight in the refrigerator. About 45 minutes before serving the next day, remove the shanks from the refrigerator and skim off and discard any fat that has risen to its surface. Reheat and serve.