A Just Simply… Cuisine summer favorite Wagshal's Whole Hormone-Free Amish Chicken is dry rubbed and slowly grilled over a can of beer to create a moist and caramelized "fall-off-the-bone" finish! The beer juices are then reduced to anoint the meat with concentrated flavor. Delicious!
For the Chicken…
1 large whole 4+ pound Wagshal's Hormone-Free Amish Chicken… rinsed and dried with clean kitchen towels.
1 12-ounce can of Budweiser, Yuengling or other American beer.
For the Rub…
Mix together in a small bowl…
3 Tablespoons paprika
3 Tablespoons brown sugar
2 teaspoons cayenne pepper
1 Tablespoon Colman's Mustard
3 Tablespoons Old Bay Seasoning
2 teaspoons sea salt
1 teaspoon freshly ground black pepper
To Prep…
Preheat your grill to 400 degrees Fahrenheit.
Rub your Wagshal's Amish chicken all over with My Memphis Dry Rub.
Pop the tab of the beer can and pour the top third into a chilled glass. Drink it!
Then using a church key can opener make 3 to 4 more holes in the top of the can.
Spoon a couple teaspoons of remaining dry rub through the holes into the beer can.
With the opening of the chicken cavity down… place the chicken over the beer can.
To Cook…
Carefully place the bird onto your preheated 400-degree grill over indirect heat spreading its legs to prop up steady.
Cover the grill and cook the chicken checking it periodically and adjusting the heat until it's crisp and fall-off-the-bone tender… about an hour to an hour and a half or so depending on weight.
Using pot holders and tongs lift the chicken off the grill holding the hot beer can underneath so as not to spill.  Place chicken on a large deep platter and let the remaining beer ooze out. Pour the beer and cooking juices into a saucepan and reduce them over medium heat for about 10 minutes or so until they thicken. Meanwhile, cover the chicken loosely with foil and let it rest for 10 minutes or so.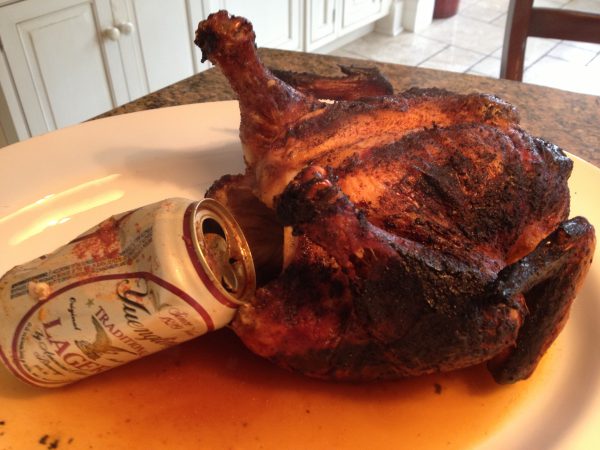 To Serve…
Carve chicken, anoint it with the reduced juices and serve. Enjoy!