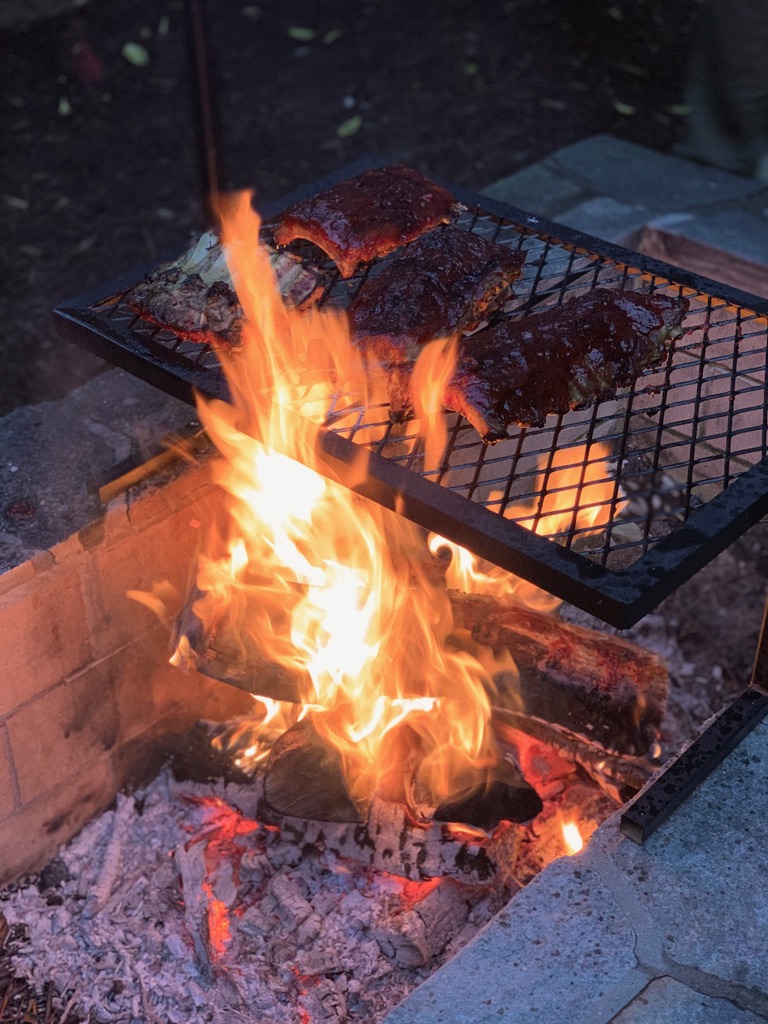 Ingredients…
1 rack of meaty pork ribs
Memphis Dry Rub
Mickey's BBQ Sauce
To Make Memphis Dry Rub…
Mix together in a small bowl…
3 Tablespoons paprika
3 Tablespoons brown sugar
2 teaspoons cayenne pepper
1 Tablespoon Colman's Mustard
3 Tablespoons Old Bay Seasoning
2 teaspoons sea salt
1 teaspoon freshly ground black pepper
To Make Mickey's BBQ Sauce…
Melt a 1/4 stick of butter
Add 2 cloves of chopped garlic and soften.
Add a bottle of ketchup.
Then add…
1/3 cup brown sugar,
1 shot of whiskey
1/3 cup white vinegar
1 Tbsp of Worcestershire sauce
salt
pepper
chili flakes
1/4 tsp cayenne
1 Tbsp chili powder
1/4 tsp dry mustard
Simmer on low for 20-30 minutes.
To Make Ribs…
2 days ahead, remove rack of ribs from packaging; cut rack in half (it's easier to manage); transfer halves onto a large platter; and, air-chill ribs in fridge.
1 day ahead, remove ribs from fridge; smear rib halves with Memphis dry rub; and return to fridge to air-chill overnight.
Preheat oven to 300 degrees Fahrenheit.
Place rack halves rib side down in a large roasting pan, add a little water (just enough to barely coat the bottom of the roasting pan (this will add moisture and prevent any rub residue from burning) and place roasting pan on the middle shelf of the oven.
About 2 hours in… add a little more water to the bottom of the roasting pan.
About 3 hours in… loosely cover roasting pan with aluminum foil.
About 4 hours in… remove rack from oven and set aside.
Preheat grill on high or build an open fire. Smear rack halves with Mick's barbeque sauce and finish cooking them until brown and sizzling.
To Serve…
Slice racks into individual ribs or twofer ribs and serve. DELICIOUS!