On our final episode of our first season, we're bringing back our co-host Radell to wrap up our first season with some real home cooking stories. Chris is also joined by Just Simply… Cuisine's beloved apprentices Kelly Hart and and Kelsey Macdonald and cooking student Joe Vealencis to share everything from their favorite home cooking tips to their most chaotic kitchen disasters and triumphs.
Finally, try cooking our final "Can Do" recipe of the season, something we've mentioned in many episodes: Reduced balsamic!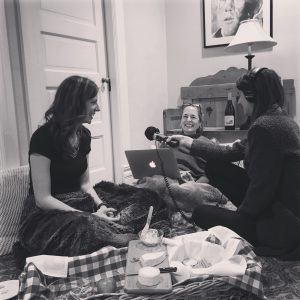 We have loved sharing our best stories and recipes with you in our first season, and we have especially enjoyed bringing some of our favorite vendors and local food businesses together so you can enjoy what they have to offer, too! This isn't goodbye, but see you later, so let us know what you'd like to hear in season 2 of We're Cookin'.
Listen using the player below, and subscribe on Stitcher and iTunes.
Podcast: Play in new window | Embed
Subscribe: Apple Podcasts | Stitcher | RSS | More
Episode 10 "Can Do" Recipe: Reduced Balsamic
To Make…
Don't use an expensive brand! Really good aged balsamics are wonderful in taste but they're often costly so … save those expensive brands to taste right out of the bottle. Look for a red balsamic from Italy's Modena region, like Whole Foods Organic 365 brand. For white balsamic, we prefer Alessi white balsamic found at Rodman's Grocer.
Pour the entire bottle into your saucepan over a low to medium heat and let it cook down until it's about half of what you started with. When it becomes syrupy and coats the back of a spoon, it's ready! Remember, it thickens even more when it cools, so we're aiming for a thick but pourable syrup so that you can transfer it to a squeeze bottle with a cap and store it in your fridge for almost forever.
To Serve…
Reduced balsamics are so wonderful for marinating meats for grilling. We have a recipe where we will squirt some reduced red balsamic onto a London Broil, add some olive oil, smear it with chopped garlic, put a sprig of rosemary, and let it marinate. It's really good! You can add it to your favorite marinara to balance it, you can squirt it into soups and stews to add depth of flavor, you can drizzle over grilled or roasted vegetables, or you can eat it by the spoon. It's delicious!