With kale's comeback on the food map… we've created this "good for you"recipe you'll never tire of. Our "Caesar Kale Slaw" calls for "Dinosaur" or "Tuscan" kale prepped and cut into what we call "kale ribbons" and lightly dressed in a simple vinaigrette. Save your leftovers… it's even better the next day!!! Enjoy…
Whisk together in a large wooden bowl…
1 farm fresh egg, coddled
1/4 cup lemon juice, freshly squeezed
1/4 cup good quality red wine vinegar
½ cup good quality extra virgin olive oil
3 cloves garlic… minced and soaked in lemon juice and sea salt for 5+ minutes and then drained.
2 teaspoons anchovy paste
2+ Tablespoons Worcestershire sauce
a scant pinch of vanilla sugar to balance… optional
Add…
2 bunches Tuscan, Dinosaur kale, rinsed, air dried, center ribs and stems removed and leaves thinly sliced into ribbons.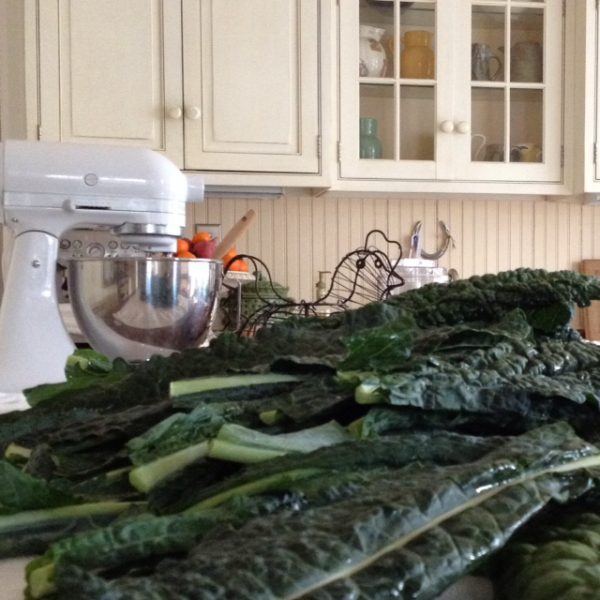 Season with…
Freshly ground peppercorns
Add…
Toasted breadcrumbs… see recipe below.
Freshly grated Pecorino or Parmesan
Toss well and serve on chilled plates. Garnish with shaved Pecorino or Parmesan and more toasted breadcrumbs. Serve immediately.
To toast the breadcrumbs… 
Preheat oven to 300 degrees
Drizzle olive oil to coat the bottom of a heavy bottom Lodge cast iron skillet.
Add enough coarse breadcrumbs to fill the skillet.
Now add more olive oil to lightly coat the breadcrumbs and gently stir.
Place the skillet on the middle shelf of your preheated oven.
Toast the breadcrumbs stirring every 10 minutes or so or until they're deep golden brown in color.
Cool and store in a container with a tight fitting lid in the fridge.